We all live in partnership with the trees.  Want to learn more? 
Please click on the links below:
Diana Beresford-Kroeger is a world recognized author, medical biochemist, botanist and climate change visionary.
Meet Diana Beresford-Kroeger
Certified arborists. Fully insured. Responsible care for living arboriculture.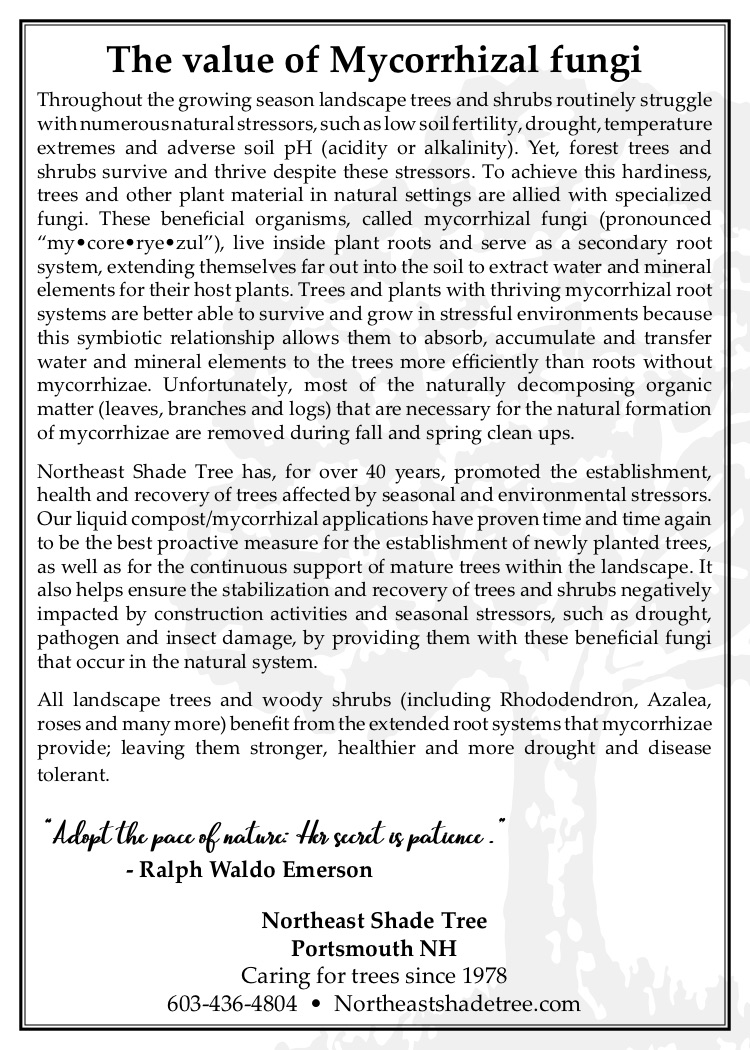 Northeast Shade Tree has been been caring for the health and beauty of New England arboriculture since 1978. We enjoy our work. Investing in the health and attractiveness of your property will both increase its value and enhance its quality. We take the time to understand your goals and vision. Our team applies their wealth of knowledge in tree biology and anatomy to ensure the highest quality results. Our honest work produces a completed job that stands the test of time.
Consulting and evaluation are our most important work because they form the foundation upon which all of our tree care work is based. Our certified arborists visually inspect your trees for canopy color and density, structural integrity of the trunk, main stems and crotches. We touch and tap on the bark to search for old wounds, cankers, cracks and signs of decay. We carefully lift up the lawn in a few places to look for tree roots and sample the soil. The end product of these observations and evaluation is to produce a proposed course of action which will help your trees be as healthy, safe and attractive as possible and to preserve them for the future. These recommendations are always made while keeping your goals in the forefront. We do not charge a fee for our initial consultations. We are also frequently called upon to evaluate trees on a property where construction of a new house or a new addition is taking place or a new landscape is being installed. In these instances, the goal of our work is to produce a plan intended to protect and preserve existing trees as construction takes place. We do charge an hourly fee for professional or industrial consulting service but the benefit is considerable.
We use a special fertilizer we called Liquid Compost. We have always emphasized the value of proper fertilization for your trees. After all, the root system comprises the second half of the tree. A healthy root system is vital for a healthy tree. The root system is responsible for keeping the top half of the tree sound and upright. We use natural based organic materials to fertilize your trees. Our fertilizers mimic the natural environment found in the forest. We call our blends Organic Liquid Compost. The reason we need to fertilize trees in our landscapes is that the raking of leaves and other litter breaks the natural cycle which returns and recycles essential nutrients. Before deciding upon a specific blend of nutrients for your trees, we sample the soil and make note of potential stress factors such as road salt damage and soil compaction. Our Liquid Compost is injected into the root zone and helps keep roots healthy and robust like those magnified on the left.